News & Events
Current Year: 2023
August 2023
BPL Medical Technologies: A Decade-Long Journey of Excellence and Impact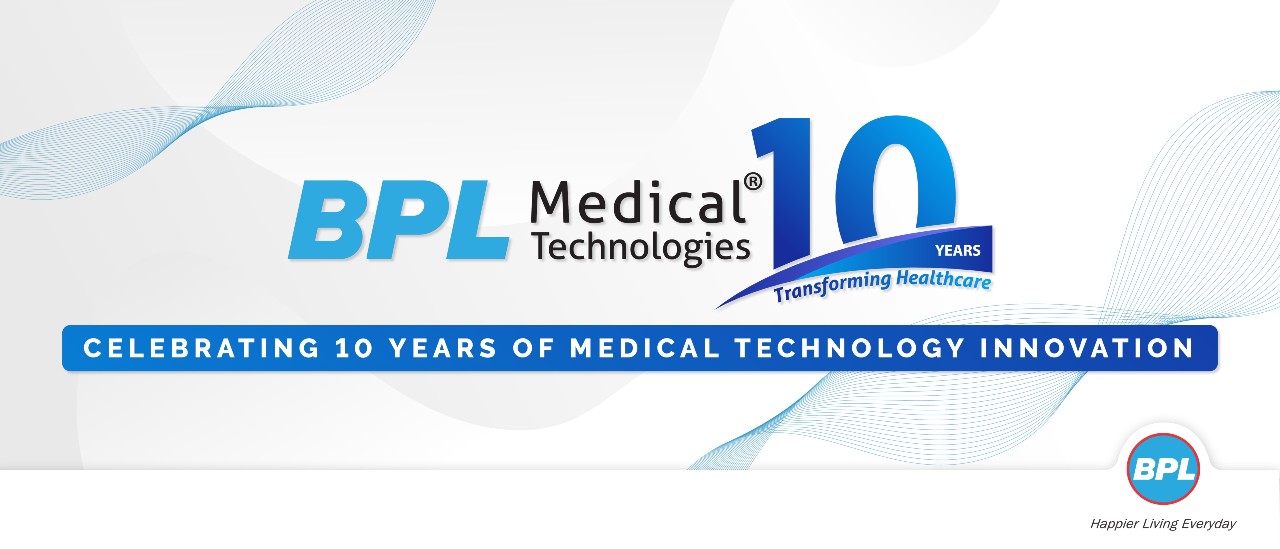 Since its inception, BPL has remained steadfast in its commitment to high-quality standards and manufacturing prowess. The brand stands as a symbol of dedication towards making people's lives better, healthier, and happier. From introducing India's very first ECG to providing essential support during the COVID-19 pandemic, the company's entire journey has been defined by innovation, compassion, and a relentless pursuit of healthcare excellence.
BPL - A Legacy of Innovation
The year 1967 marks a pivotal milestone for BPL, as the company introduced the first-ever single-channel ECG machine in India. With a determined team of professionals and a mission to make a difference in the Indian healthcare ecosystem, the company continued to innovate in the following years, introducing patient monitors in 1972 and defibrillators in 1975, catering to a wide range of healthcare needs.
In 1988, BPL made waves in the medical technology market with the launch of microprocessor-based ECGs, showcasing its prowess in merging cutting-edge technology with medical equipment. This commitment to staying at the forefront of innovation set the stage for many more groundbreaking introductions in the years to come.
The Journey of BPL Medical Technologies
In August 2013, the company "BPL Medical Technologies Pvt. Ltd" emerged as a separate entity, dedicated solely on providing high-quality, state-of-the-art medical technology to the Indian market. This strategic move reinforced BPL's commitment to enhancing healthcare services and reaching more patients across the nation.
BPL Medical Technologies has expanded its horizons through strategic global partnerships with Penlon Ltd., Lowenstein Medical, Alpinion Medical Systems, and ATOM Medical. These alliances empowered the company to integrate global expertise and offer world-class medical solutions to Indian healthcare professionals.
The years following 2013 witnessed a steady stream of innovative launches. In 2014, BPL-ALPINION Color Doppler systems, new technology patient monitors, mobile healthcare solutions, and online ECG learning courses were introduced, further elevating the standards of patient care.
In 2015, the acquisition of Penlon Ltd., a UK-based manufacturer of Anaesthesia systems & Vaporizers, and a partnership with Ambu-King Systems reinforced BPL's position as a leading provider of advanced medical equipment. The
Defibrillator Relife 900
showcased BPL's commitment to enhancing cardiac emergency response. In 2016, the company expanded its product portfolio to include state-of-the-art C-Arm and X-Ray systems, multi-channel
ECGs
(Gen X3),
patient monitors
, and an extensive range of homecare products. These advancements are aimed at enhancing patient care, diagnosis, and comfort across various healthcare settings. Later in 2018, BPL Medical Technologies launched the Surgical Diathermy SurgiX Series of products, empowering surgeons with precision and reliability during critical procedures. The
Oxy 5 Neo
Portable Oxygen Concentrator, with an impressive oxygen purity of 93%, addressed the need for efficient respiratory support.
Contributions during the COVID-19 pandemic:
The COVID-19 pandemic posed unprecedented challenges to healthcare infrastructure worldwide. During this time, BPL Medical Technologies displayed unwavering commitment and compassion. The company took proactive steps to provide oxygen concentrators in India and partnered with the ICICI Foundation to extend support to remote Himalayan Belt and Tribal Areas.
Additionally, BPL Medical Technologies played a significant role in the
10-Bed-ICU Project
, in partnership with HDFC Bank Parivartan. This private-public partnership initiative focused on creating proper ICU infrastructure in rural India, providing essential medical equipment and supplies to hospitals across multiple states.
Continuing the Legacy
There is no other medical equipment manufacturer that can claim a legacy that's as strong as that of BPL Medical technologies. The company has come a long way in its decade-long journey of healthcare innovations in
Cardiology
,
Critical Care & Surgery
,
Mother & Child Care
,
Imaging
,
Homecare
and
Consumables & Accessories
for hospitals. Having such a wide product portfolio of healthcare innovations makes the company a one-stop solution for most of the hospital's needs.
As a company, BPL Medical Technologies is committed to the vision of the respected PM of making India Atma-Nirbhar (Self-Reliant) in the medical device sector. Their manufacturing facility is in the city of Palakkad, Kerala and conforms to the highest standard of quality that ensures accuracy and patient safety. To further cement their focus on making in India, the company is all set to introduce yet another
manufacturing facility
in 2023, in Bangalore with lots of investment for vertical integration of many of their products. Along with the Government's support in terms of outlining favourable regulations & PLI scheme, the company is strongly marching towards self-reliance, thereby taking steps to be the brand making in India, for India, and the world.
With a passion for innovation, a dedication to quality, and an unwavering commitment to enriching lives, BPL Medical Technologies continues to be a beacon of excellence in the medical technology domain. Looking ahead, the company remains committed to shaping the future of healthcare through groundbreaking solutions and collaborative efforts, and strives to empower healthcare professionals, improve patient outcomes, and contribute to building a healthier and happier world for all.
Join us
on our continued journey of excellence, as we redefine the future of healthcare, one innovation at a time.