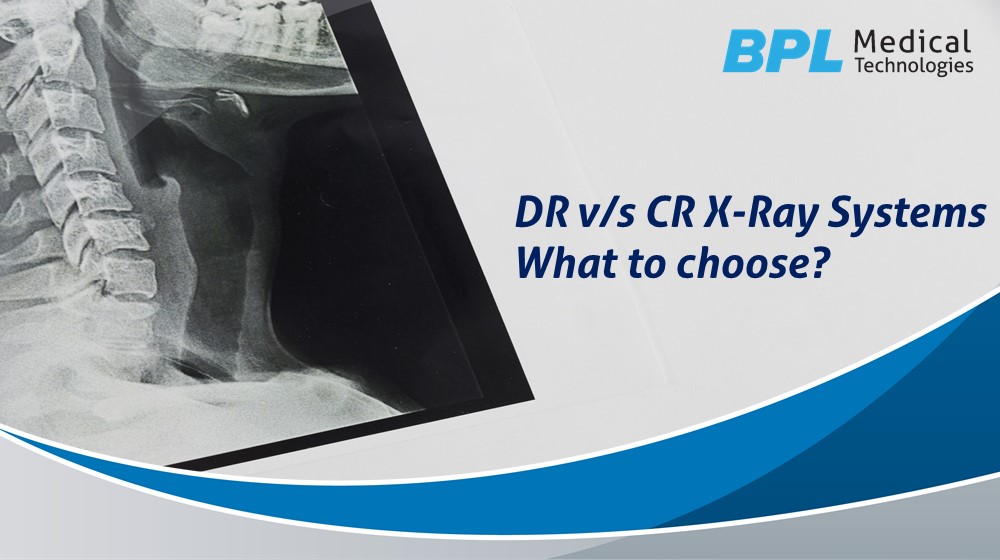 Whether you are a practicing medical professional who owns and/or is looking to buy a new digital X-Ray system for your facility, or someone who is simply interested to learn more about the latest imaging technologies, you must have heard about digital imaging systems like Computed Radiography (CR) and Digital Radiography (DR).
With ongoing technological advancements and significant cost reductions with regards to purchasing, processing and storage of traditional film, digital X-ray systems have rapidly become the preferred choice amongst many healthcare professionals.
While both CR and DR imaging techniques use digital technology for X-ray imaging and pose significant advantages over the traditional screen-film radiography, what is the difference between DR and CR X-rays? And which would be a better choice for your practice?
Before making a decision, let us first understand the process of Computed Radiography and Digital Radiography separately, followed by a comparison between them.
What is Computed Radiography?

Sometimes known as "Film-replacement Technology", Computed Radiography (or CR) is an imaging technology that uses a flexible phosphor imaging plate (IP) to capture image, and create a digital output instead of using conventional films.
CR systems require minimal changes to be made in an imaging facility, and are also widely known to be an "initial" cost-friendly solution. However, CR systems do not allow to speed up the workflow, and requires frequent maintenance. In addition, there is a risk of over-exposure while using a CR system.
What is Digital Radiography?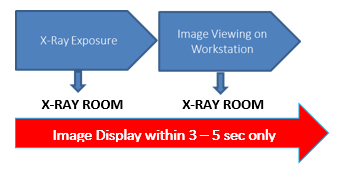 Digital Radiography (DR) is the latest advancement in radiography. It uses X-ray sensitive detectors that quickly transfers & displays the image onto a computer, so the user can view and diagnose without an intermediate cassette.
DRs generally have better signal-to-noise ratio and an improved dynamic range, which, in turn, provides high sensitivity for radiographic applications. These systems are additionally capable of either mobile or fix use – making it more flexible for varied applications.
While the initial investment for a DR system may be high, its output quality, workflow efficiency, less frequency of maintenance and other advantages outweighs the cons, thereby making DR the fast preferred choice of digital X-Ray systems among many clinicians.
What is the difference between CR and DR X-Ray Systems?
Although CR and DR systems require far less exposure time than the conventional Screen-Film Radiography, Computed Radiography is an older technology as compared to Digital Radiography, with DR possessing significant advantages over CR systems.
There are several factors to consider when deciding whether CR or DR best suits your needs. For that, let us understand the major differences between DR and CR against various parameters, and how is DR better than CR (Advantages of DR):
Parameters
CR System
DR System
Advantages of DR
Components
CR Scan Unit, Cassettes and PC Workstation
Flat Panel Detector and PC Workstation / Laptop / Tablet
DR allows portability whereas CR is a fixed system and bulky in size
Image display time
6 – 8 minutes
Within few seconds
More patients can be scanned in lesser time
Method of Scan
Cassette to be exposed & inserted to the CR Reader
Instant image retrieval & display after exposure

Faster image acquisition & display; within secs only
No need of costly multiple cassettes

Material Used for Exposure
Cassettes uses Phosphor material
Directly deposited CsI scintillation material offers higher DQE: 65%

Much better image quality
Lesser radiation
Longer X-Ray tube life with FPD

Image Quality
CR is more sensitive to artifacts as Image Plate of Cassettes easily gets wear & tear
Detector doesn't have issue of scratches and offers better image quality at lower dose

Image quality is maintained throughout life of detector
Greater dose efficiency

Portability
Multiple cassettes to be carried to different departments for all cases
With one detector and mobile kit all the cases could be completed

Speedy completion of portable cases. No handling of multiple cassettes
No Risk of overexposure

Maintenance
High maintenance cost , cassette / image plates to be replaced frequently
Unit comes only with panel and workstation

Low maintenance cost
Detector has IP54 rating for Ingress protection form Dust & liquid
Harnessing Quality Imaging with Care - The BPL Advantage
BPL Medical offers an impressive range of X-Ray Imaging solutions comprising of Diagnostic X-Rays and Digital X-Rays, designed for modern-day clinical settings and routine examinations with user-friendly features and a smaller footprint. Advance your workflow with BPL Digital X-ray Systems, that gives you freedom with easy upgrade options.
With BPL Diagnostic X-Ray systems, you can opt for mobile/fixed high-frequency or line-frequency models with options to control exposure time, dose and safety parameters. Wireless and wired system ensures best performance & workflow, maintains sensitivity, image quality and versatility.
We are always within your reach.
With our wide-spread network of professionals across India, BPL Medical is ready to help you plan, and provide strong support in creating the most effective path for your imaging needs. There's one for every budget, workflow and environment. Get in touch with us so we can help you select the DR model that is best for your facility and your workflow.
Disclaimer: The content on this page is strictly for educational & information purposes only. Should you need assistance to make an informed decision, kindly contact us.