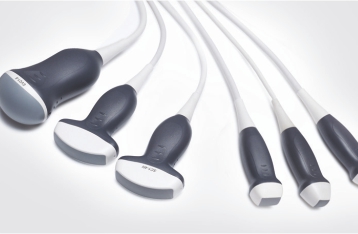 Performance of any ultrasound machine depends critically on the transducer but transducer performance has been one of the bottlenecks that prevents the end users from reaching their theoretical resolution limit specially when the goal is to differentiate between healthy and diseased tissue, without going for any invasive procedure. Knowledge is required from a variety of disciplines such as acoustics and vibration, electrical engineering, material science, medical imaging, anatomy and physiology.
It has been found that piezoelectric single crystals such as lead magnesium niobate-lead titanate (PMN-PT) have superior dielectric and piezoelectric properties suitable for medical ultrasound with notable advantages of broad bandwidth and high-sensitivity. Its development has pushed the limits of ultrasound imaging technology, giving diagnostic quality information about microscopic structures in living tissue.
The behaviour of PMN-PT in an electric field is different from that of PZT and far superior. Under an applied electric field, most types of piezoelectric crystals can vibrate more effectively and thus make sound in only one dimension, so a random arrangement of microcrystals like those in a ceramic cannot approach the theoretical performance of an aligned single-crystal piezoelectric.
The combination of an oriented-crystal material and its tremendous capacity for electrically induced strain makes PMN-PT qualitatively superior to ceramic ferroelectric piezo materials in general, and to PZT in particular
The physics of the ideal single-crystal material has been known for decades, but both the commercial-scale crystal growth of PMN-PT and its application to manufacturing, reliable ultrasound transducers have posed engineering and economic obstacles that few companies attempted to conquer.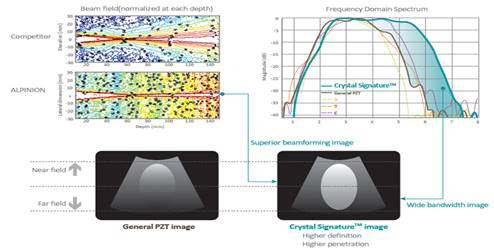 With in-house development of acoustic materials, computational acoustic design capability using a wide range of materials and specialized manufacturing know-how , single crystal transducers are manufactured for range of ultrasound machines starting from low to premium and high end machine giving high penetration imaging resolution.
BPL – Alpinion machines have revolutionised the way ultrasound imaging is practiced with its Single Crystal Technology.