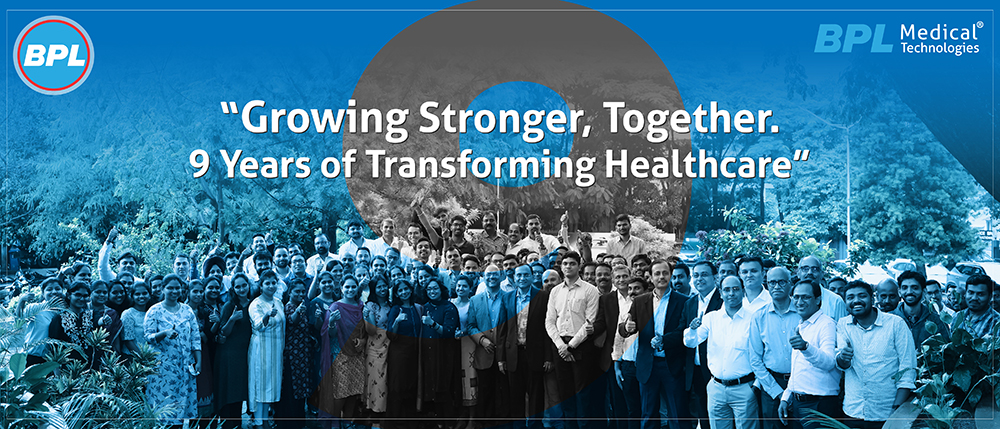 There is no other Indian company that can claim a heritage of medical technology innovation which is as deep and broad as that of BPL Medical Technologies. From being the first company in introducing ECG Machines in India in 1967 to extending the healthcare continuum to homes at present, BPL Medical has pioneered in medical technology innovation and is on a mission to transform and strengthen India's healthcare infrastructure. Read on to learn more about the complete journey of BPL Medical – Making in India, for India & the world.
BPL Medical Technologies: A Heritage of Innovation
Right from televisions to home appliances, BPL products hold a prominent place in the lives of every Indian. The company has been a frontrunner in introducing and indigenizing latest technological solutions across various industries, including healthcare.
In 1963, BPL came into being in collaboration with the erstwhile British Physical Laboratories, UK, under the leadership of TPG Nambiar. In a bid to show the world that India could manufacture its own medical products, BPL Medical was the first company to introduce single-channel ECG to India back in 1967. This was shortly followed by various other medical innovations like the launch of defibrillators in 1975, microprocessor-based ECG devices in 1988 and central nursing station software in 2006, thereby constantly staying ahead of the industry demands by developing and improving our products over the years with new technologies and relevant features. Building on our own expertise in cardiology sector, we began expanding our portfolio by launching products like multi-channel ECG and portable ultrasound in 1997, patient monitoring systems in 2002, Gynaecology products and oxygen concentrators in 2004, X-Ray and Point of care devices in 2009 and public access defibrillators in 2011. After decades of success, BPL Medical Technologies was established as a separate company in 2013. Our collaboration with the best brains across the world and our high-capacity manufacturing facilities ensures that our customers are equipped with latest technologies at affordable prices. We will continue to introduce innovative products and expand our customer support network to enhance the productivity of healthcare.
Our Contributions during COVID-19 Pandemic
Solving Oxygen Crisis: As COVID-19 cases in India dramatically spiked during the first and second waves, many of the COVID-19 Care centres and healthcare institutions in India were running short of oxygen supplies and beds. The problem was noted during the peak of the first wave in September 2020, and then on a much larger scale during the peak of the second wave, in April and May 2021. Looking at this, BPL Medical Technologies Pvt Ltd took an initiative of solving India's need for oxygen concentrators during the second wave of the COVID-19 pandemic by providing oxygen concentrators to Indians. For this, BPL Medical Technologies Pvt. Ltd. entered an MoU with Bharat Electronics Limited (BEL) in February 2021 for co-operation in manufacturing and providing quality and affordable healthcare devices/equipment in India and to leverage the policy initiatives of the Indian Government, such as Make in India. The partnership with BEL enabled manufacturing and providing oxygen concentrators in India at a much larger scale so that India as a country will be better prepared for such crisis.
In addition, we supplied oxygen concentrators to many world-renowned organizations to reach COVID centres at the time of pandemic. BPL Medical also partnered with the ICICI Foundation to provide oxygen concentrators across the remote Himalayan Belt and Tribal Areas in India, along with a specialised skill training module on the installation and servicing of oxygen concentrators to help in skilling lesser privileged youth to service oxygen concentrators.
10BedICU Project: India's overall response to the pandemic witnessed both the private and Government sectors working in tandem which led to inception of the 10-Bed-ICU Project - a PPP (private-public-partnership) project undertaken by the different Indian state Governments, donors, and a group of NGOs to create proper ICU infrastructure in rural India. In association with HDFC Bank Parivartan, one of the funding partners of the 10BedICU Project, BPL Medical has successfully provided and installed many of the cardiology and critical care products such as Patient Monitors, X-Ray Machines, Warmers, ECGs, Defibrillators, Syringe Pumps, Volumetric Pumps, Penlon Laryngoscopes, Resuscitation Bags, BP Apparatus and Consumable items like Ventilator circuits, HMV Filters, Bacterial filters, etc. In addition to critical care medical equipment, we have also successfully provided other essentials such as ICU cots, ABGs, crash carts, shifting trolleys, suction apparatus, otoscopes, etc. with support from various other vendors. So far, we are successful in providing more than 3,500 equipment to over 110 different hospitals across 8 Indian states.
BPL Medical in present world
As an Indian manufacturer of sustainable and quality medical equipment, we at BPL Medical Technologies are well-equipped with the most comprehensive portfolio of affordable healthcare solutions ranging in Cardiology, Critical Care & Surgery, Imaging, Mother & Child Care, Homecare as well as Consumables & Accessories. Headquartered in the Indian city of Bangalore, we have a large team of R&D that strides to design and develop medical devices as per the latest product features and offerings. We are constantly intensifying our efforts of incubating many new products.
As a company, we are committed to the vision of our respected PM of making India Atma-Nirbhar (Self-Reliant). Our manufacturing facility is in the city of Palakkad and conforms to highest standard of quality that ensures accuracy and patient safety. To cement our focus on making in India, we are setting up one more manufacturing facility in Bangalore with lots of investment for vertical integration of many of our products. Along with the Government's support in terms of outlining favourable regulations & PLI scheme, we are marching towards self-reliance in the space of medical devices. We remain steadfast to local manufacturing and dedicated to offering value for money solutions to our customers and thereby enhancing the lives of our patients. Our goal is to provide quality and cost competitive solutions to domestic as well as global customer base.
Since our inception, we have constantly strived to meet high-quality standards driven by manufacturing. We work towards making Indian lives better, healthier, and happier and making it truly Atma-Nirbhar in years to come.