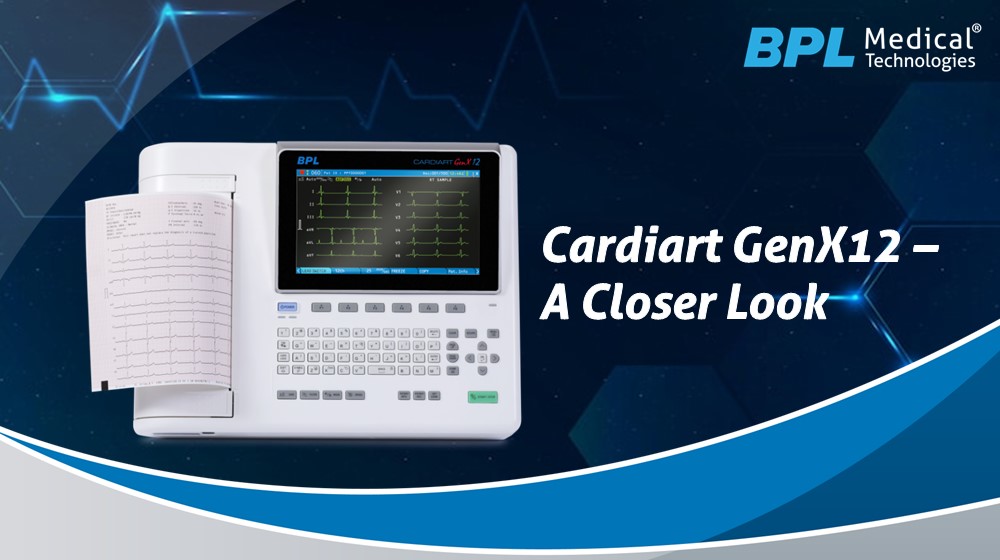 In this ever-evolving field of medical diagnosis, accuracy, efficiency, and reliability in the diagnostic tool plays a significant role in shaping patient outcomes. Whether you are a practicing medical professional who is looking to buy an ECG Machine, or someone who is simply interested to learn more about the latest diagnostic tools available in the market, the significance of knowing and incorporating the latest ECG Technology cannot be understated.
Keeping the varied needs of modern healthcare facilities in mind, Cardiart GenX12 Series of ECG Devices are introduced. GenX12 is a Series of 12-channel ECG machines that comes in two variants, namely Cardiart GenX12+ and Cardiart GenX12. Let us understand some of the key features of the GenX12 Series that will help you make an informed decision.
Enhanced Diagnostic Accuracy
At the core of any ECG machine, there needs to be a very powerful algorithm that can process patient data with high accuracy and precision. GenX12 ECG Series uses the well-known University of Glasgow ECG Interpretation algorithm that elevates diagnostic accuracy to a great extent. The Glasgow ECG Interpretation Algorithm, developed at the University of Glasgow in the UK, enables automated means of providing ECG analysis by incorporating patient's demographic data such as Gender, Age and Race specifications.
In addition, GenX12 Series is packed with several other features, with key features as:
Arrhythmia Detection Feature: that extends rhythm capabilities and improves diagnostic yield.
Freeze Feature: that allows up to a 2-minute scrollable trace view for all the 12 leads, aiding in comprehensive analysis.
With these key features, GenX12 series can provide precise and reliable results, allowing clinicians to design tailored treatment strategies for their patients. Also, it helps to streamline operational tasks and reduces the need for repeat tests, ultimately saving time and valuable resources.
Seamless Data Integration
With GenX12 series, managing patient data becomes much easier. The GenX12 Series offers multiple connectivity options such as USB Drive Export, USB Direct Print Feature (for selective printers only), and Multiple FTP upload profiles. Depending on the needs and preferences, users can choose to further upgrade the machine with an optional feature of paperless workflow with PDF, HL7 Export options for easy data access, transfer, and storage. Furthermore, the series comes with its own internal storage space for storing patient data - GenX12+ can store up to 800 ECGs in internal storage, whereas GenX12 can store up to 400 ECGs in internal storage.
User-Friendly Interface
Having a user-friendly ECG machine helps in training healthcare professionals, which is especially useful in busy clinics and hospitals. Additionally, it aids in skill development among students in medical colleges, so they feel more confident. Some of the key advantages that are not very direct is that a user-friendly ECG machine considerably saves time, simplifies the device operation, and allows caregivers to focus more on what matters - diagnosing their patients with minimum stress.
Keeping these underlined benefits in mind and the value it holds, the GenX12 series has been designed with a very simple and easy-to-use interface that requires minimal training. Some of its key features are:
The machine starts in less than 4 seconds.
It comes with a 12-Channel ECG Recording on an high resolution 8/9-inch colour TFT screen display for GenX12/GenX12+ respectively that display the vital signs very clearly. Users can upgrade for an optional touchscreen.
Users can also print the trace with user-selectable trace darkness feature as per the needs.
It has colour-coded silicon keys, QWERTY Keypad and Navigation Keys for intuitive usage.
Its ergonomic design enhances portability with built-in power supply, rechargeable Li-ion battery pack.
It comes with a rechargeable Lithium battery pack.
To suit diverse use scenarios, the series comes with distinct visual identities: Fixed Tilt and Variable Tilt Configurations, and ECG Record Storage Options.
Continued Assistance Always – The BPL Advantage
At BPL Medical technologies, we understand that investing in any medical equipment is an important decision, and it does not end with the purchase for us. Our goal is to not only provide high-quality and reliable medical devices, but to build a strong and lasting partnership with all our customers, so that the focus is only on what matters the most – delivering exceptional patient care. For this, we have a very extensive network of professionals and partners that are present across the country for you, to support healthcare professionals like you throughout the journey. Whether it's installation, maintenance, troubleshooting, or needing help in choosing the best fit for you, our experts are just a call away.
We are always within reach. That's our promise.
With BPL Medical Technologies by your side, you can be confident that you have a reliable partner who's dedicated to your success, providing the support you need, when you need it. Your satisfaction is our top priority, and we are here to exceed your expectations at every turn.
If you have any questions regarding the product,get in touch with us so we can help you select the model that is best for your facility and your workflow.
Disclaimer: The content on this page is strictly for educational & information purposes only. Should you need assistance to make an informed decision, kindly contact us.